Loadboard aims to disrupt US trucking's third-party disruptorshttps://www.joc.com/sites/default/files/field_feature_image/trucks-loading-multiple-us-fit.jpgWilliam B. Cassidy, Senior Editorwww.joc.com2019 11 21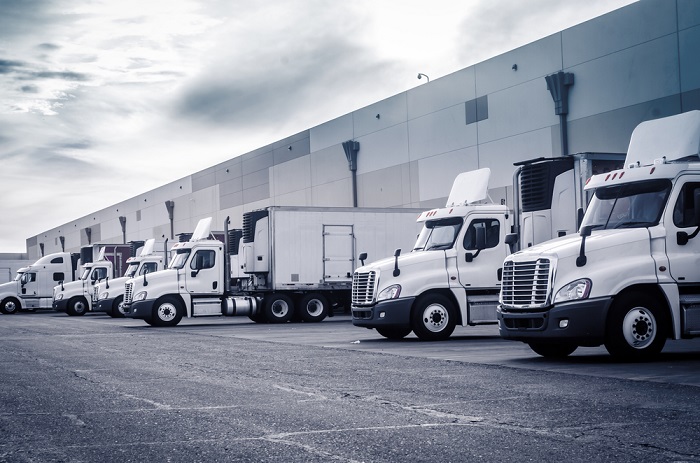 In a big leap, Kane said MyRiteLoad.com is shooting to have 165,000 trucks on board by April 15. Photo credit: Shutterstock.com.
The problem with the myriad companies vying for the title of "disruptor" in the truck freight market is they're not disruptive enough, according to Matthew Kane. "The problem is, they're still brokers," said Kane, speaking of companies such as Uber Freight and Convoy in particular. They may offer new and innovative third-party services, but they're still third parties.
Kane wants to build something different: a marketplace directly connecting shippers with trucking companies and owner-operators without an intermediary that arranges transportation. He's been working on MyRiteLoad.com for several years and believes new or pending agreements with insurance and factoring companies will bring new truckers to the service.
Kane calls it 'a fix, rather than disruption'
"We directly connect shipping manufacturing companies to screened qualified drivers," Kane said. What myriteload.com doesn't do is broker freight. "We've been called disruptive, but I'd prefer to categorize what we do as a fix, rather than disruption. We have built something that is quite unique, a real shipper-to-carrier loadboard." A loadboard, he said, without brokers.
"The reason shippers use a freight broker or 3PL [third-party logistics provider] is the task of managing all those relationships" with carriers, Kane said. "We're going to offer shippers that service, but we'll give it to them for free. They can post freight on our board and connect and contract with the carrier themselves. We take out the over-complication," along with an accumulated layer of costs, he said.
Technological disruption once was heralded as a way to eliminate middlemen, but that's proven a difficult task. The internet was supposed to connect consumers and producers directly, for example. Instead, we have Amazon, the ultimate retail "middleman." Likewise, technology hasn't eliminated brokerage but allowed brokers to offer more services to shippers.
But it's also offered an opening for Kane, who has been pursuing his goal of connecting shippers and truckers since 2011. His biggest challenge is one familiar to brokerages: gaining scale. "Right now we've got about 120 shippers and about 3,400 to 3,600 drivers," Kane said. He thinks that number will rise with new insurance and factoring agreements.
Getting enough drivers on board has been a problem. The company stopped taking freight at one point and "relaunched" itself in 2017. The agreement with OTR Capital and another factoring company could bring thousands more drivers and companies to MyRiteLoad, he said.
MyRiteLoad.com goal: 165,000 trucks by April 15
In a big leap, Kane said MyRiteLoad is shooting to have 165,000 trucks on board by April 15. The system is free for shippers to use, but drivers or trucking companies pay an $18 sign-up fee and $18 per assigned load. Truckers can also sign up for free and pay $27 per load. MyRiteLoad runs credit checks on shippers and checks driver qualifications.
The latest iteration of MyRiteLoad was introduced last year, along with Android and iPhone apps used by truckers and fleet dispatchers to find and assign loads. For shippers, the service includes shipment tracking and geofencing. Kane plans to add additional data-based services. "We're giving the shipper tools to be more proficient to help reduce loading times," Kane said.
Kane and MyRiteLoad differ from many competitors. They're based in Philadelphia, not Silicon Valley. Kane previously published an automotive circular. He's neither a techie nor a trucker by trade. His venture isn't underwritten by venture capital. He is an entrepreneur, however, and after selling his publishing business he found himself looking for a new opportunity.
Meeting several truck drivers at an event in Washington, DC, several years ago sparked his interest. "One of my brothers is an over-the-road driver, and I remember hearing about problems with brokers and detention times at shippers," he said. "I came back from that event and decided I wanted to find out more." His research method involved a lot of time on the road.
"I went on a tour," he said. "I drove around the country for eight and a half months and got perspective from a lot of drivers — reefers, flatbed, dry box guys, tankers — I talked to them all. It was like getting a master's degree in eight months. I talked to shippers as well. I would pull into industrial parks and jump up on the docks, asking questions. I got perspective from both sides."
The answers Kane received left him convinced shippers and truckers would be better off without brokers between them. Not that he thinks brokers are "bad," but "they complicate the system," he said. "We came up with a system that allows the shippers and carriers to bypass the rings of fire in the middle and communicate and contract directly. It really is just plain common sense."
Direct access to a new source of capacity
There are plenty of 3PL companies, and carriers and shippers, that would vehemently disagree, but there are also shippers who would welcome and benefit from direct access to a new source of capacity. That's what's driving interest in digital marketplaces of all types for truckers and shippers, whether they are brokerages or include 3PLs or not.
Kane insists there are significant savings for shippers, and gains for truckers, in connecting directly through his system. "A broker will charge a shipper $2,000 for a load, and pay the trucker $1,600. Why not pay the trucker $1,900 directly and save $100 on the load?" he asked. When you save $100 on 1,000 loads on a weekly basis, that's $100,000 a week."
Increasingly, however, shippers are looking for more than transactional cost savings. Kane acknowledges that and is planning to add services to the marketplace, including more-sophisticated shipment monitoring, such as telematics. "I want to increase those value-adds," he said. "I've got another two dozen pieces of the puzzle that I want to add to the system."
Contact William B. Cassidy at bill.cassidy@ihsmarkit.com and follow him on Twitter: @willbcassidy.
https://www.joc.com/trucking-logistics/loadboard-aims-disrupt-us-trucking%E2%80%99s-third-party-disruptors_20181212.html