Top 10 Tech: The top trucking products of 2019
John Smith-38
Today's Trucking
2019 12 18
Posted: December 17, 2019 by John G. Smith
TORONTO, Ont. — Picking favorites is not a task to be taken lightly. No matter who you include in a related list, someone will feel slighted because they were left behind. But as a new year comes upon us, it's a tradition at Today's Trucking to identify 10 new products that stood apart from the rest during a given year.
New trucks are excluded from consideration, simply because they all incorporate a wide array of individual products, but everything else is fair game. My chosen few represent advanced technology, creative thinking, and updates to solve practical challenges.
Given these rules of engagement, here is my list of the top trucking products of 2019.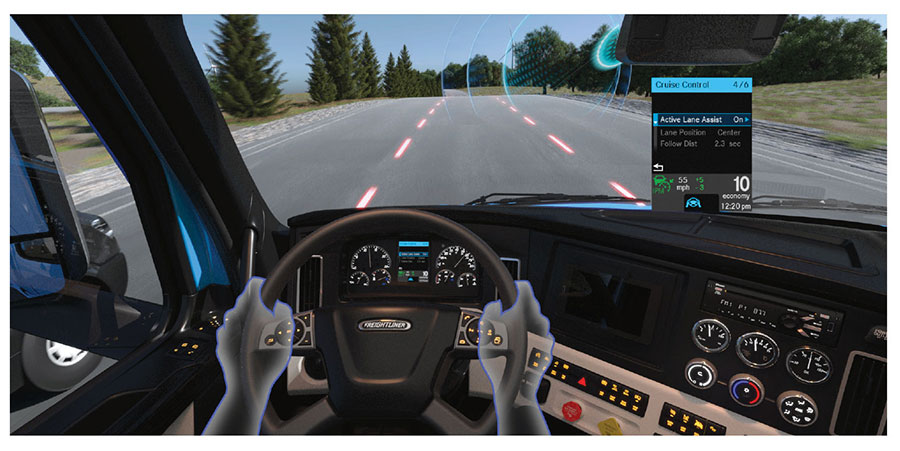 Detroit Assurance 5.0 – Daimler Trucks North America planted a flag earlier in the year when it became the first OEM to introduce a truck with Level 2 autonomous controls. The new Detroit Assurance 5.0 suite of safety systems can adjust and resume cruise control in stop-and-go traffic, apply full brakes when detecting moving pedestrians, warn drivers about vehicles sitting in their blind spots, and even help a Freightliner Cascadia track down the middle of its lane. That's right. The steering wheel will nudge back and forth on its own. These are merely a few examples of what the underlying technology can do. The decisions are based on the readings from radar-based sensors and a windshield-mounted camera. Don't mistake this for a truck that drives itself. A driver continues to sit behind the wheel. But it's fair to describe Detroit Assurance 5.0 as a driver's co-pilot.
freightliner.com
SAF-Holland SMAR-te Tire Pilot – The air within your tires is responsible for supporting the load above them, but what if one load is heavier than the next? SAF-Holland has come forward with a system that dynamically adjusts tire pressure based on the axle weight. In other words, a tire on a loaded trailer could be run at 100 psi, and drop to 70 psi when the trailer is empty. By combining AKTV8's electro-pneumatic controls and SAF's Tire Pilot Plus wheel-ends, the system can inflate, deflate and equalize tire pressures; optimize tire pressure based on axle loads to extend sidewall and tread life; notify drivers about overweight loads; and better cushion the vehicle and cargo, especially when equipment is lightly loaded. There's a promise of marginally better fuel economy, too.
safholland.ca
Volvo Dynamic Steering – I was first exposed to Volvo's Dynamic Steering system on a test track in Europe, and was quite impressed with the way it smoothed out the jarring sensation of a rough road surface. With some tweaks to accommodate the difference between European cabovers and North American conventional designs, it is now available here. The electric-over-hydraulic steering support will lessen steering effort by up to 85% at low speeds, but maintain a stiffer feel on the open highway. It all draws on an electric motor on top of the hydraulic steering gear to deliver extra torque as needed, and absorbs steering wheel torque originating at the wheels. A "zero return" feature will even return the steering wheel to the center position when a truck is in motion, making it easier to reverse, while a lead/pull compensation offers the torque to compensate for crowned roads and steady crosswinds.
volvotrucks.ca
Link ROI Cabmate – Link Mfg. has introduced its own way to smooth out your ride with a semi-active cab suspension that responds to everything from rough roads to harsh crosswinds. The electronic control unit at the heart of the system draws data from an accelerometer that monitors cab motion, and a position sensor that tracks the cab's position and velocity relative to the frame. The suspension's shock absorbers are adjusted by filling or exhausting the air springs. It means there's a soft shock when traveling a smooth highway, and a stiff shock for uneven terrain. Adjustments to offset things like potholes are made in real time, too. linkmfg.com
Rocketail Wing – Aerodynamic fairings can make a measurable difference in fuel economy when mounted at the rear of a trailer. But they have to be deployed to make a difference, and be protected from damage. The Rocketail Wing promises to save 8.42 liters of fuel per 1,000 km by smoothing out the rearward flow of air behind the trailer, while also producing lift like the wing on an aircraft. The wings sit an inch from the trailer wall to support a uniform air flow, and extend just 14 inches behind the barn door. When the doors are open, these wings also sit flush at the side of the trailer, so the doors can swing a full 270 degrees without being blocked. Close the doors and everything is ready to flow. rocketail.com
Integrated Filter Gladhands – I've seen some strange things pulled out of air lines over the years — from grass clippings to bee hives. But what can be done when equipment is parked for an extended period of time? Tramec Sloan has unveiled a gladhand with a protective filter and cover to keep things clean. It's an elegant solution that doesn't require separate line filters, fittings or mounting hardware. When a vehicle is uncoupled, the color-coded swivel simply covers the gladhand's seal. tramecsloan.com
Purkey's SteadyCharge – Trailer refrigeration and heating units rely on accessory batteries, but inactive batteries will naturally discharge over time. To compound matters, emerging trailer telematics systems can steadily drain power from starter batteries. The Purkey's SteadyCharge will maintain such batteries for months on end, without the risk of overcharging, and will run whenever the tractor is connected to the trailer. No extra charging cables are needed, either. The system automatically recharges over the seven-way connector without interfering with other devices that rely on the auxiliary circuit.
purkeys.net
VanGripper Restraint System – A new personal restraint system offers a portable option to secure workers as they walk on top of trailers. The Van Gripper from Deneigement Toitures Excel attaches to opposing edges of a trailer or van rooftop, and workers attach their safety lines to it. The related grips then slide along with the personnel as they remove snow or complete other repairs. It all helps to comply with rules that require people to be restrained while working more than three meters above the ground, and also to meet the regulations that require snow to be removed from trailer rooftops.
vangripper.com

Continental's "intelligent" tires – Every tire can tell a story if you know how to read the patterns in tread wear. But Continental has developed a steer tire and line of construction tires that will deliver direct information about temperatures and pressures thanks to an integrated sensor. The sensor itself is mounted to the inner liner, while the data can be monitored through a ContiConnect Yard Reader or the in-cab ContiPressureCheck. The capabilities currently come in the Conti HSC 3 steer tire, HAC 3 all-position tire, HDC 3 drive tire, and HS3 regional haul steer tire.
continental-truck.com
Ancra's AutoDeck – Ancra Cargo has automated its integrated decking system, making it possible to adjust trailer deck heights at the touch of a button. Deck heights are controlled using a panel at the rear of the trailer, and a manual override option is also available in the case of lost power. The company believes it can reduce loading times by 20%, in part because forklift operators can stay in their seats as adjustments are made.
ancracargo.com
https://www.todaystrucking.com/top-10-tech-the-top-trucking-products-of-2019/