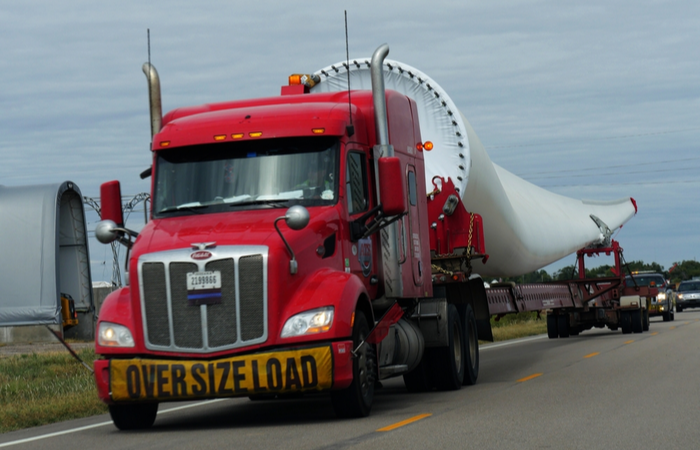 Demand for wind turbines will provide more business and revenue for heavy-haul trucking companies, as companies rush to claim tax credits. Photo credit: Shutterstock.com.
The largest US heavy-haul trucking companies carried an oversized amount of revenue last year as the US energy boom ratcheted up demand for oil field equipment, wind turbines, and other outsized freight, and the size of heavy-haul projects and cargo increased.
The 10 largest heavy-haul carriers pushed their combined revenue up 33.3 percent to $2.8 billion, according to a report from transportation research firm SJ Consulting Group. Daseke led the way, nearly doubling its heavy-haul revenue to $925 million through acquisitions.
The strength of energy markets and potential for US infrastructure investment are two factors that will determine how high heavy-haul or specialized trucking revenue will climb in 2019. The availability or lack of resources — particularly specially trained truck drivers — is another.
Dry-van truckload capacity may be abundant, but that's not the case when it comes to heavy-haul trucking. "There's not enough truck capacity to meet the demand," David Ferebee, vice president of sales and marketing for Lone Star Transportation, said last month.
When it comes to oversize, overweight freight, "everytime we figure out how to move it, they make it bigger," Ferebee told the 2019 JOC Breakbulk & Project Cargo Conference in New Orleans April 29-May 1. The size of the equipment being moved "is pushing the limits," he said.
Daseke, a transportation holding company that is the parent of Lone Star and 16 other companies, pushed its own limits, acquiring five specialized and heavy-haul flatbed trucking companies in 2018. That helped raise its total revenue 91.3 percent to $1.6 billion.
Landstar leads organic growth
Excluding Daseke, the remaining nine carriers increased heavy-haul revenue 15.4 percent, led by Landstar System, which saw a 22.2 percent increase in revenue from oversized/overweight cargo, SJ Consulting said. The research firm put that revenue at $416 million last year.
The heavy-haul business has been performing well for Landstar this year, even when traditional truckload business is soft, CEO Jim Gattoni said in an April 25 earnings call transcribed by Seeking Alpha. "We always tend to be one of the first guys in when there's a special project going on," he said.
Flatbed trucking represents 30 percent of Landstar's revenue — $1.03 billion in the first quarter and $4.6 billion in 2018 — and specialized trucking revenue about 30 percent of flatbed sales, Gattoni said. With limited capacity, heavy-haul pricing is resistant to spot-like volatility.
Three of the motor carriers — United Vision Logistics, Bennett Motor Express, and Universal Truckload Services — had heavy-haul revenue in the $200-300 million range. Universal increased heavy-haul revenue 20.1 percent, Bennett 19.3 percent, and United 7.7 percent.
Five carriers — Anderson Trucking Service, American Eagle Logistics, Combined Transport, Admiral Merchants Motor Freight, and Acme Truck Line — had between $100 million and $200 million in heavy-haul revenue. Their combined revenue was up $70 million, or 11.9 percent.
Business is blowing in the wind
Heavy-haul carriers will get a lift in 2020 from the increasing viability of wind-based energy production. But the size and weight of shipments are a growing challenge for logistics managers moving wind towers to inland sites, speakers at the JOC breakbulk conference said.
"There are turbine prototypes on tap right now that will be in excess of 160 meters [in length], and we have 120-meter turbines now," Dan Shreve, head of global wind energy research at Wood Mackenzie, said at the event. "There are enormous challenges moving this equipment."
That challenge could lead to more collaborative projects linking heavy-haul, over-dimension truck fleets with out-of-gauge railroading. "There's not enough truck capacity to meet the demand, there's no question about that," Lone Star's Ferebee said. "Trucks can't do it all."
Wind turbine shipments are rising in advance of the expiration of US production tax credits in 2023. "We're moving massive pieces of equipment in a heightened level of activity, said John Lusty, director of energy and utility solutions for Siemens Gamesa Canada.
"[Turbine] manufacturers are racing to get their bids out to market so they can beat their competitors in locking up transportation capacity," Gene Lemke, vice president of projects at Anderson Trucking Services, the sixth-largest US heavy-haul trucker, said earlier this year.
In January, Lemke told JOC.com his St. Cloud, Minnesota-based company has projects booked through autumn of 2019, and had walked away from some business due to lack of capacity.
Tariffs may prove a heavy-haul headwind
Wind energy may provide a tailwind for heavy-haul truckers, but higher US tariffs may prove a headwind. Tariffs placed on Chinese aluminum and steel are expected to lower the US construction equipment industry's domestic output, according to IHS Markit.
Heavy construction equipment is a staple cargo for oversize/overweight trucking operations. IHS Markit, the parent company of JOC.com, expects construction equipment output to fall by almost $500 million a year over the next 10 years as a result of US tariffs and trade wars.
Higher-cost steel eventually could dampen construction activity, IHS Markit said in a report prepared for the Association of Equipment Manufacturers. Tariffs will increase costs of producing agriculture and construction equipment 6 percent and mining equipment 7 percent.
As cargo gets bigger and heavier, shippers such as CG Power Systems are looking for ways to balance the weight of what's being shipped and the equipment used to move it, said Jurgen Huygh, head of outbound logistics and business control for the India-based company.
"We've used new technology to lower the weight of the trailers, so they can handle the increased weight of the transformers," Huygh said at the breakbulk conference. "We need to see more innovation in every area of project cargo," including the heavy-haul trucking leg.
Contact William B. Cassidy at bill.cassidy@ihsmarkit.com and follow him on Twitter: @willbcassidy.
https://www.joc.com/trucking-logistics/truckload-freight/us-heavy-haul-truckers-build-revenue-face-big-challenges_20190613.html